Improving Biomarker Imaging with SmartStage™ XY & Z
At a Glance
NanoView Biosciences, provides comprehensive measurements for exosome particle size analysis, exosome count, exosome phenotype, biomarker colocalization and virus characterization.
When redesigning the ExoView® instrument they were looking to improve the throughput and reliability of the XY and Z motion within their next generation platform.
An Exosome Imaging Instrument
NanoView Biosciences develops proprietary products that support research, translation and delivery of precision medicine. The company was founded on a novel technology platform that uniquely identifies and characterizes exosomes.
Their fully automated platform provides previously unattainable information in a purification-free workflow, providing biophysical and proteomic information at the single exosome or virus level.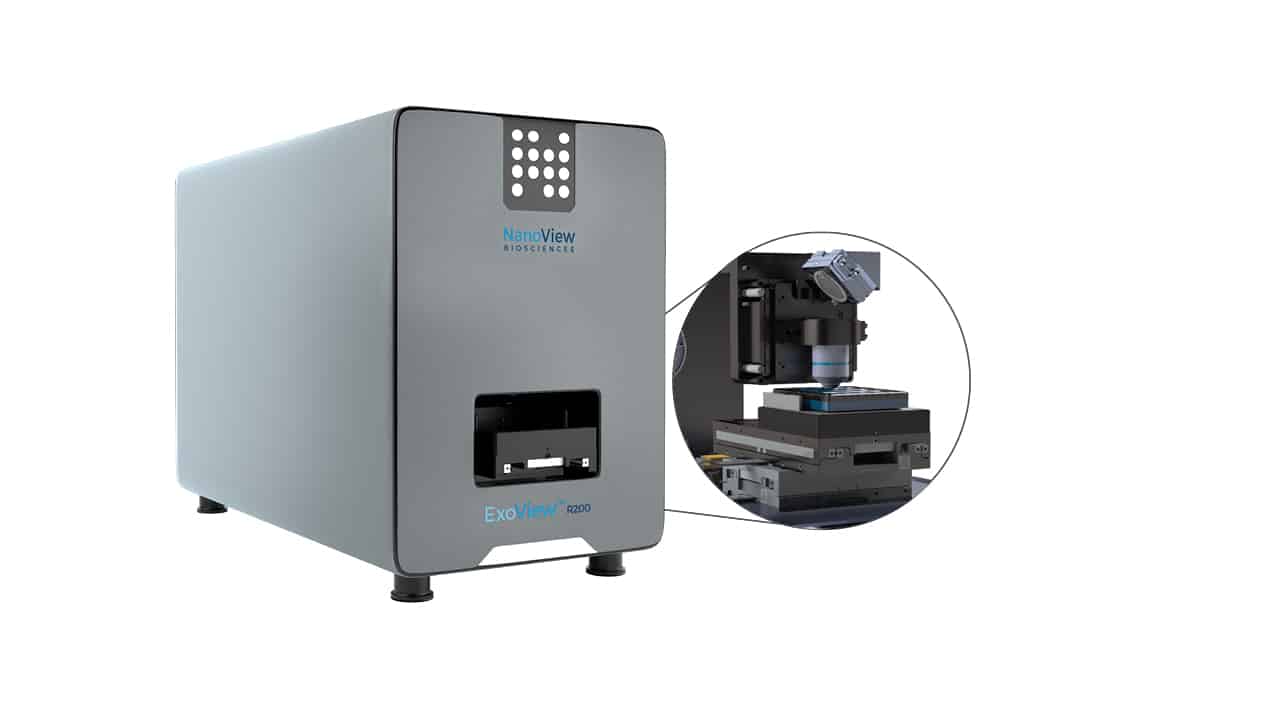 Goal
A major design goal of the ExoView R200 was to improve instrument imaging performance, throughput, and reliability through upgrades to the motion control stages.
Challenge
Any alternative would need to maintain consistent image quality through stable and repeatable XY and Z stage positioning, and fit within the existing instrument space.
How Dover Motion Helped NanoView
The previous stepper motor and screw driven stages were limiting instrument performance. Dover Motion provided a combined solution for X, Y, and Z axes utilizing both the SmartStage™ XY and DOF-5 linear motor stages, which achieved all identified instrument improvement targets.
1
Increased Instrument Throughput
2
Improved Out of Box Reliability
3
Decreased Audible Noise in the Lab
The NanoView instrument needed to be able to clearly focus and measure extracellular vesicles and viruses that are as small as 50 nm in size. This requires extremely small and fast Z axis objective moves coupled with sample holding stability during imaging.
The DOF-5's high bandwidth and < 5 nm RMS holding stability improved the Z axis performance for the critical 100 nm focusing moves. With image  acquisition times up to 30 seconds, the DOF-5 high resolution 5 nm encoder provided the objective holding stability needed for crisp images. The speed of the DOF-5 also helped with instrument throughput as the system needs to focus and move the objective multiple times per chip.
In addition, the factory alignment of the objective mounting bracket of the DOF simplified manufacturability. By using the reference features of the DOF-5 combined with its 5 mm travel, manufacturing time for stage integration and optical alignment is reduced compared to the previous stages.
"The speed and performance of the DOF-5 stage coupled with the pre-aligned objective mount made it an easy choice to use as a microscope objective scanner. It exceeded all of our requirements and was simple to integrate."
Each NanoView sample holder loaded into the fully automated ExoView R200 instrument holds 16 ExoView® chips. Dover Motion's SmartStage XY linear motor based XY stages provide the fast step and settle that enables high throughput imaging of the 40 sites per chip that need to be imaged and analyzed.
The high resolution and repeatability of the SmartStage XY allows for accurate and repeatable positioning with moves ranging from 100 µm up to a few millimeters. The SmartStage XY 5 nm resolution encoder provides the holding stability required to differentiate individual 50 nm particles.
"The SmartStage XY linear motor stages surprised us with their speed and silence. They have handily met our need for fast, accurate movements, and long holding stability. We love the internally protected optical encoders, making the stages more reliable and easier to work with."
Throughput and Reliability Achieved
Dover Motion's innovative technology was quite different than what NanoView has used in the past. The direct-drive linear servo motor stages are more reliable, quieter, and faster than the previous stepper motor and screw based stages. The DOF-5 and SmartStage XY built in controls architecture reduced cabling and removed the external controllers providing a volume savings of ~ 230 cm2. The improved flatness of the SmartStage XY led to a 40% reduction in the number of Z images at each site increasing throughput and reducing file size.
"The SmartStage XY and Z improved the design and manufacturability of our instrument by eliminating external cables and controllers. The design and quality of these stages improved the overall robustness and performance of our instrument."