Let's put breakthrough innovation into
motion.
Kevin McCarthy explains how creating breakthrough innovations allows Dover Motion to enable technological advances in life science and diagnostics.
"Our recent pace of innovation has never been higher. Our focus in recent years has been to drive productivity in High Throughput Microscopy, which requires X-Y stages for sample motion, and Z axis stages for precision focusing."
Dover Motion is proud to be a part of Fortive, with a $23B Market Cap. Fortive means STRENGTH - strength in numbers, strength in skills and perspectives, strength in a shared conviction to make an impact. Fortive is a global team consisting of 18 operating companies, across 50 countries, energized by a powerful purpose creating essential technologies that move the world forward.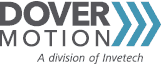 +
Motion Systems Shipped to Fortune 500 Companies
Our innovations are disrupting motion control
Proven Expertise in Motion Control Solutions
We have more than five decades of experience creating motion solutions for the life sciences, diagnostics, and factory automation industries, designing multi-axis stages for applications such as imaging, optics, focusing, positioning, and motion control. We specialize in overcoming all sorts of motion challenges, from controlling motion at the nanometer level to driving high frame rates and critical focus in automated imaging systems. Many of our products have been in the field for decades, running reliably in incredibly challenging conditions such as the crowded confines of a diagnostics instrument or the high-vacuum setting of outer space.
On-Time Delivery at the Lowest Possible Cost
Dover Motion is part of Fortive (NYSE: FTV), a $5B+ Fortune 1000 company, and we have deep roots in the Fortive Business System (FBS). FBS is a framework focused on continuous improvement, customer-centric processes, visual management and lean manufacturing.
All employees are trained in the tools of FBS which are designed to eliminate waste, minimize risk, ensure on-time delivery, promote safety, and provide our clients with a superior experience. FBS coupled with the purchasing power and reach that come with being part of a Fortune 1000 company, allows us to provide our clients with customized motion solutions that meet any cost or timeline goal.
The Right Solution for your Application
With more than 50 years of experience in the life sciences, diagnostics, and factory automation industries, we understand your needs and industry and can provide you the flexibility you need to hit your cost and schedule targets. Whether your project requires a customization to a standard product or a completely custom design, we'll collaborate with your team to ensure we hit the most challenging design, cost, and schedule targets.